Market bubbles and depressions tend to be more social phenomenon than rooted in fact.
Credit Crunch, Mortgage Meltdown, Sub-Prime Crisis, Alt-A Debacle, Housing Doom, Bursting Bubbles…the cliches are as creative as the financing options that used to permeate the marketplace. But what are the real numbers behind such doomsday hyperbole?
They're not quite as sexy nor remarkable:
National Foreclosure Rates…

The Spin: National Foreclosure Rate Almost Doubles in 2008! | Foreclosures Hit Historic Highs | Homes in Foreclosure Top 1 Million

Reality: National Foreclosure Rate = 0.7%…up from 0.4% around this time last year. Roughly 7 out of 1000 homes are in foreclosure.

National REO Rates...REO or Real Estate Owned property is the 'inventory' banks hold, homes they likely foreclosed on and have yet to resell back into the marketplace.

The Spin: Bank REO's up 100% From 2007

Reality: National REO Rate = 1.0%…up from 0.5% last year.
With all of the suspect to downright criminal practices that have been unveiled in the mortgage industry over the past year and a half, coupled with mainstream media spin, one would think that the housing and mortgage markets are in a state of pending armageddon, as in the end of days are upon us. It's simply not true. Yes foreclosures are up and will likely continue to rise but they are the result of unprecedented, unsustainable expansion and growth…what goes up must come down at some point.
During times of lower trending mortgage rates, property generally appreciates as consumers can afford 'more house', sales flourish. Consumer defaults and subsequent incidences of foreclosure remain low because money is cheap. When rates rise the same consumer cannot afford the higher costs, appreciation levels or dips (depreciation), defaults and foreclosures increase. -Masters in Rocket Science not required to understand these fundamental market corollaries.-
Much of the skewed perception results from looking at the state of the union through the wrong set of glasses. Map mash-ups like this one:
…do well to point out which States have:
A. The highest degree of mortgage fraud/predatory lending.

B. Fundamentally impractical (stupid) appreciation.

C. Deteriorating local economic conditions.

D. All of the above.
A more useful set of information would compare common interest rates (and their indices) against home sales, values and the relative number of delinquencies/foreclosures across recent history.
Since I can't find this chart, nor have the time to create one, I'll use a few others' 'chart porn'.
According to this Calculated Risk chart, between 2002 and 2007 there were ~37,950,000 home sales.
What caused this historically explosive growth? Historically cheap and easy money.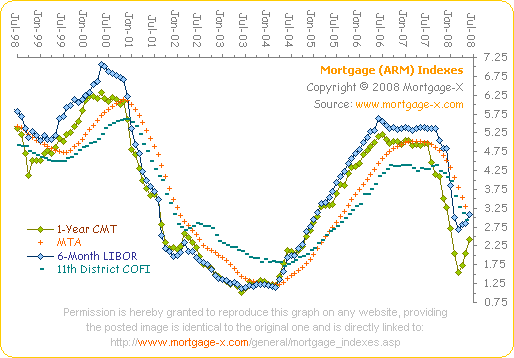 The indices in the chart above represent those that are tied to popular mortgage programs. The COFI, MTA, and CMT directly effect (the terribly abused) Option ARM programs while the LIBOR is the index for many conforming ARM mortgages. It's easy to see that home sales and prices blew up as rates bottomed out in late 2003, early 2004. Lower rates = lower payments. Lower payments = lower income needed to qualify for a mortgage. Lower qualification requirements = more qualified applicants…you get the point.
Consumer demographics that historically would have never qualified for a mortgage suddenly and briefly did qualify. Lenders threw gasoline on this spark and continued pouring it on by further dropping long standing underwriting qualification criteria. Wall Street greatly subsidized the raw fuel to further this incendiary trend: money, gobs of it. The Dream of Homeownership was sold like hard candy. For those consumers that f into the brief
The indices above reached their peak around July 2006, not coincidentally the wheels began to loosen on the market shortly after this and the sky began to fall shortly thereafter…
Advancing to February 2008, median home values and sales are actually increasing. What, Why, How? Rates have recently trended downward again, relieving some of the downward pressure in the housing market.
Studying the data above, it's relatively surprising that the 'housing epidemic' hasn't actually become one on par with how big the 'housing bubble' actually got. The mortgage and housing markets may be suffering from a bad cold, but it's far from terminal. Much of the same infectious exuberance that permeated the housing market from 2002-2006 has today mutated into a plague of doomsday hyperbole. Market bubbles and depressions tend to be more social phenomenon than rooted in fact. A disjunctive phenomenon can drive an otherwise practical market into uncharted, volatile territory…alas hindsight is 20/20.
So, knowing what we now do, how can the highly contagious, overly optimistic peaks and financially draining valleys be mitigated in the housing and mortgage markets?
A logical first step is transparent access to better mortgage data, I know someone who has a line on this
  Next would be understanding how to best disseminate through and correlate it against housing market data using meaningful, effective strategies.
The relatively new real estate futures market could serve as an effective tool to hedge against impractical social phenomenon like bubbles. Futures markets are speculated by highly informed and educated people who have access to quality data that can spot potential bubbles well before they get too big. If they begin selling short, its a good idea to curb the enthusiasm. In the alternative, if they're bullish or going long, lower interest rates, property appreciation, new housing starts and higher sales are likely.
It's about time these Industrial Age marketplaces started using Information Age practices to stem future 'epidemics' and other like hyperbole from unnecessarily spreading…